A Sunday Big Day Out with Mark Phillips  – Coming soon
 9am – 4pm
Date to be advised – Watch this space
The days adventure starts at  Woolloomooloo gate …..Don't be late for early morning tea!
Some of the days activities include: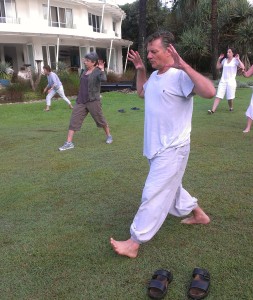 early morning tea
Jin Jing Gong qigong class with teacher Mark Phillips
conducted tour of  the herb garden
walk through the oriental gardens with wild and cultivated plants from the East
mid morning snack pack
standing  tree meditation
surprise garden fun experience
slant with me in the garden!!!
beautiful aerobic walk stopping only  to hug trees and talk to the birds
delicious organic lunch in an idyllic setting
meditation
observing nature is all part of the day!
Getting there:
Train: the nearest station is Martin Place. Other stations close to the Royal Botanic Gardens are St James and Circular Quay.
Ferry: an easy walk from Circular Quay
Bus: the 441 (Balmain via QVB Building) leaves York Street, Town Hall on weekdays, 10 am to 5 pm, stopping outside the Art Gallery of NSW. The Sydney Explorer Bus also includes the Royal Botanic Gardens on its route and the 200 (Chatswood to Bondi) stops in Macquarie Street.
Car: there is metered parking along Mrs Macquaries Road, Hospital Road and Macquarie Street. Undercover parking is available at the Domain Car Park, Sydney Hospital, the Sydney Opera House and in Macquarie Street.
Motor cycle: The motorcycle parking at the Royal Botanic Garden Sydney differs to that of the City of Sydney. At the Royal Botanic Garden there are over 30 clearly marked, dedicated motorcycle parking spaces which are free of charge and not time limited. If a motorcyclist chooses to park in a marked metered space he/she is required to pay for the parking and observe the time limits for that area. Parking in a metered bay requires payment 24 hours – please check parking meters for rates.
What to bring with you:
sun screen, hat and sunglasses
umbrella just in case
sarong to sit on if you need to for grass activities
your water for the day
happy disposition
your smile
openness to a new experience
Don't delay. Book today using registration form below . Numbers strictly limited.  $119 for the day. For enquiries call Margie on 0407 187 159