This  full day powerful workshop will introduce you to Qigong self-healing techniques.
You will be able to take charge of your health and that of your family naturally without resorting to therapeutic drugs, which have side effects.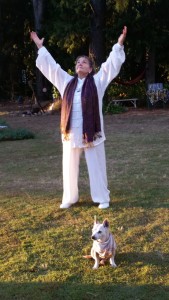 What you will gain from the course:
more flexibility and balance within your body
stronger muscles and mind
healthier bones, bone marrow and kidneys
peace of mind
feeling well grounded and in control
more energized
better sleep
less aches and pains
renewed confidence that you can take charge of your health naturally
Upcoming  courses:  
9.00 am – 4.00 pm
Sundays: 13th August 2017 & 1ST October 2017
Upstairs at the Wellness Cafe, Avoca Beach (Central Coast)
Sunday 6th November 2017
 Unit 9a,  1710 Pitt Water Road, Gibson Marina (on the Northern Beaches)
What you will learn
In this easy, practical workshop you will discover basic Qigong self-healing techniques. You take away with you :
seven powerful Qigong exercises for self healing of internal organs
breathing techniques to remove toxins from the body
meditation and sound therapy to support self healing
full understanding of how to channel healing  Qi (your life force)within your body
the gift of self healing through acu-point activation
energy healing though the meridian channels
self massage
You are now ready to heal yourself and your family members.
The workshop will teach you how to apply Qigong to improve  immunity and to promote relaxation and inner peace for yourself. In addition you will learn easy valuable self healing routines for yourself and your family.
Class numbers are limited click this link to book and reserve your place. 
Other pages of interest:
To keep informed of Qigong activities subscribe to my regular newsletter and YouTube channel at the top right hand side of this page.
"All you need is enough"
Grand Master Zhao