The Chinese Secret of Health, Wellbeing and Longevity
This gentle, yet powerful,  one-day workshop will introduce you to Qigong self-healing techniques. It is held regularly over the weekends at different venues in Sydney.
What you will gain from the course as you continue with daily practice:
more flexibility
stronger muscles
healthier bones and bone marrow
mind body and soul  in balance
feeling well-grounded
feeling of wellbeing
more energy
better sleep
fewer aches and pains
renewed confidence that you can take charge of your health naturally
Next course:  Scout Hall Pittwater Road,  Bay View(on the Northern Beaches)
Sunday 5th April 2020
9.30am – 4 .30pm
Cost includes training CD and DVD,  refreshments morning and afternoon
Lunch at cafe on-site or bring your own.
What you will learn
In this easy, practical workshop you will discover basic Qigong self-healing techniques. You take away with you :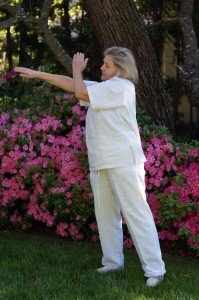 five powerful Qigong movements that stimulate Kidneys, lymphatic system, muscles and joints and that are effective in removing dis-ease
healing Qigong postures, breathing techniques and meditation
how to take control of your mental and emotional health
an understanding and feeling of Qi  ( your life force)
techniques on how to train your whole body from inside out
the ability to see your own aura
the gift of self-healing
self-massage
the five-element healing routine using sound vibration and color
You are now ready to progress with more advanced training.
The workshop will teach you how to apply Qigong to improve your mental clarity, fitness, and immunity and to promote relaxation and inner peace for yourself. In addition, you will learn easy valuable self-healing routines for yourself and your family.
Click this link to pay for your course. You will be sent a registration form to complete.
Other pages of interest:
To keep informed of Qigong activities subscribe to regular newsletters and videos at the top right-hand side of this page.
"All you need is enough"
Master Zhao