Aromatherapy is invaluable when caring for young children. Careful use of pure essential oils  provides a natural alternative to chemical based commercial products.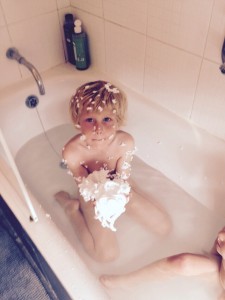 I dedicate this page to my two beautiful daughters, Nattie and Allie and  their gorgeous cousins, Sammy and Tracey, who between them have five  boys and three girls. They have used  my home made products on all their children from birth. I thank them all for trusting and believing in my lotions and potions over the years. It is my pleasure to share my recipes with you and your friends.  May more and more mums choose consciously to use natural products with no toxic chemicals in them.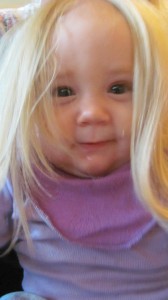 Pure essential oils can be used for everyday common ailments and as complimentary treatment for general health and wellbeing of your children.
How to use oils on babies from 48hours old:
gently massage daily using lavender and chamomile oils – helps mother /baby bonding and helps baby to feel secure and stable
use soothing music at bath time – here you can add baby bath oil to the water
make sure environment is warm
my recommended carrier oil for babies and young children : apricot kernel or jojoba – both these oils are very light and nourishing for young skins
Recipes:
Birth to 3  months:  choose from the following pure essential oils – lavender, grapefruit  and chamomile . Tea tree and eucalyptus only if necessary.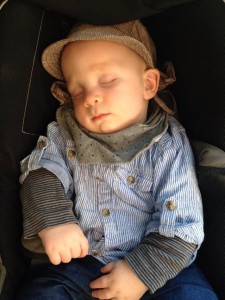 bath oil: 1 drop each of lavender, mandarin and  chamomile pure essential oil in 10 mls carrier oil  (only use 5 mls per bath)
massage oil:  1 drop each of lavender and chamomile in 20 mls carrier  oil (these two oils calm the nervous system, perfect for sleep time
baby powder: 5 drops of grapefruit or tea tree or lavender or chamomile pure essential oil in  2 heaped table spoons of organic corn flour. Mix and store in glass or stainless steel container with screw lid.
colic: 1 drop lavender and 1 drop geranium in 15mls carrier oil – use as compress on tummy or massage gently in circular clockwise direction
cradle cap: 1 drop geranium and 1 drop eucalyptus oil to 20 mls avocado / coconut oil – massage into scalp after bath, leave on over night till next bath. Apply shampoo before wetting the head. Gently comb out loose skin. Repeat daily till scalp is clear.
heat rash: 2 drops lavender to 1 litre cool chamomile tea – bathe as required
nappy rash: 1 drop each of lavender and chamomile oil to 20 mls calendula infused oil – apply the blend at every nappy change till completely healed. Also take care to wash and dry well after each nappy change. DO NOT USE commercial powders and mineral oils at all they clog the skin.
teething: 1 drop each lavender and chamomile in 20 mls carrier oil – massage gently into jawline, upper neck and cheeks as often as is necessary
room spray: You can use a room spray from 12 months old.  –  into 100mls spring / filtered water add 4 drops of your preferred pure essential oil. Shake each time you use.
coughs and colds: 1 drop tea tree and 3 drops  lavender to a large bowl of boiling water. place bowl under babies cot. Massage under the feet, the chest and back with massage oil using same oils.

Aromatherapy oils can be used from as young as 48 hours old to 12 years old and beyond

Insect bites / burns: 1 drop  lavender in one teaspoon bicarbonate of soda. Mix into a past . Apply to area as often as necessary.
skin lotion: take 2 tablespoons unscented organic vegetable base cream add enough water to reach the consistency you prefer. Add 1 drop to 8 mls lotion. Use liberally all over baby and child
3  months – 12 months :add  in calendula, mandarin and  tea tree oils
1 – 5 years : include geranium, lemon, palmarosa to blends
5 – 12 years : all oils considered safe for adults are safe for young children but only use one quarter the adult dose.
Caution: They are not intended to replace the health care practitioner,  for any serious ongoing condition a professional should be contacted.
Other pages of interest:
Please subscribe to NatureHealth newsletter if you would like to receive more health tips for your family by clicking on the right hand side of this page. Share this page with other moms to help them make the right natural choices for their family.