At the end of your busy day take time out to be. Give yourself, your partner, your kids or an elderly member of the family this treat.

Few easy steps to get you going:
prepare tub/bath/bucket/large stainless steel salad bowl with four  drops of  selected essential oils (peppermint and lemongrass),  one teaspoon coconut oil, one cup Epsom salts in warm to hot water
put on your favorite relaxing music
soak indulgently for at least 10 minutes
scrub with passion every conceivable spot, pulling at the toes, firmly around the ankles, up and down the Achilles tendon, base of the foot, instep, ball of foot and heel
dry with intent rubbing between the toes, gently pushing them apart and pulling off as you dry each one
then massage luxuriously – who knows what will happen next!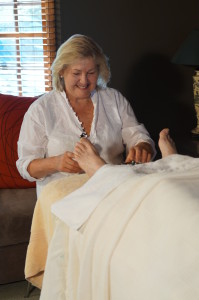 Pay attention to the tucked-away spots that are often ignored
there is a point at the base of each toe, between the web  – press, hold and release. This stimulates the meridians that activate the internal organs
there is one point between big toe and second toe, one finger space toward your ankle- press, hold release. This activates your liver.
The ball of the foot needs a good firm rub. This takes energy to your heart and lungs.
Kidney 1 point is found on the soles of the feet, centrally just behind the padded ball of  the foot – press inwards gently at first as it can be sensitive.
Press gently and release to cause a reaction
both sides of the ankle then massage in circles
Run your fingers at least three  times over these spots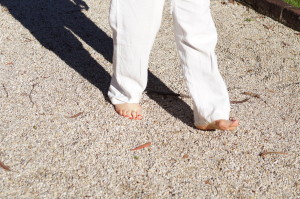 top of the foot between the bones from toes to ankle
both sides of Achilles tendon
middle of the underside of the foot
entire heel area (using thumb)
When drying the foot
dry firmly between the toes gently easing them apart
round and round the ankles
rub the entire sole of the foot firmly
Now the finale
Complete satisfaction. Who knows what will happen next!