How to use Pure Essential oils for Steam Inhalation:
Prepare your bowl of hot steaming water
Use two to four drops only of chosen oil (for colds and flu choose from tea tree, eucalyptus, peppermint, lemon, pine or thyme)
Roll up a towel forming a funnel and breathe in
Close the funnel as you hold your breathe as long as possible
Breath out and visualize releasing the infection back to the earth to transform it into compost to nourish mother earth.
Repeat six times at least three times a day till you are feeling great again.
How to Use Pure Essential Oils Neat for Tissue Inhalation
Allow two drops of your chosen oil to drop onto a tissue (see suggestions below)
Inhaling two drops of pure essential oils neat on a tissue is a very effective way to find quick relief from common ailments: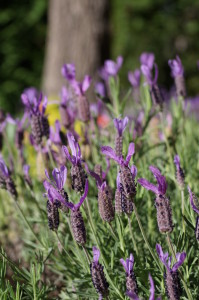 drowsiness when driving use peppermint
for head aches use peppermint and lavender
for improved sleep use lavender or chamomile
for blocked sinuses use eucalyptus and peppermint
for coughs use eucalyptus
for colds and blocked sinuses  use eucalyptus, peppermint and  tea tree
for concentration use rosemary, basil or lemon
Follow this procedure for the best results: 
stand up straight with tissue in hand
allow two drops of selected oil to drop onto tissue
crumple up the tissue  in your hand
take a deep breathe in and bend over as you breath out, empty lungs completely
take the  impregnated tissue to your nose, breathe in deeply as you slowly stand up straight again
hold your breathe for as long as possible
take tissue away as you bend over and breath out
repeat step 5, 6 and 7, two more times
Now enjoy the benefits of the oils you have just breathed in. You will sleep better, no more head aches, no falling asleep at the wheel when driving long distance and stubborn coughs are eased.
TIP : Pure Essential Oils should not be used neat on the skin except in these special circumstances:
for pimples use a drop of lavender and tea tree on cotton ear bud
for cold sores use rose geranium directly on the affected area
for burns use lavender
Use aromatherapy oils to balance your body with ease and grace.
Please subscribe to my regular newsletter by clicking the green subscribe button on the top right hand side of this page.
To purchase your Essential Oil Travel pack click this link