Peace,  harmony, love and joy
In this section I share with you the high lights of living in China for a month with my Qigong Master, Zhao and his wife, May.  These include:
Early morning walk

Chengdu daily traffic – Cars, busses, bicycles, scooters, three wheelers and taxi's all have right of way and pedestrians wait for a gap!

Qigong practice in the park
Dancing in the park at night
Walking along the river after dinner
Daily meditation
Massage
Drinking tea in the local tea house
Mahjang
Shopping
Strolling daily in fresh local farmers market
What an experience to slip into a Chinese family for a month.
The lifestyle is so relaxed. Unhurried and easy. Many people are retired at 45 years old. They are able to pursue their hobbies. Painting, singing, writing, dancing mahjong, Qigong, Tai Chi, drumming or traveling.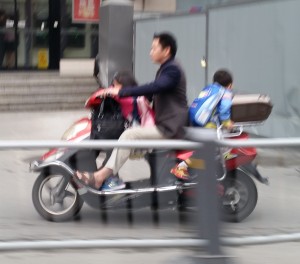 Social intercourse with neighbors and friends is a daily occurrence. Morning tea, afternoon tea or playing cards or Mahjong after dinner.
Qigong for health,  Tai chi, Swords, fans and whips are  widely practiced in huge groups in all the parks everywhere first thing in the morning.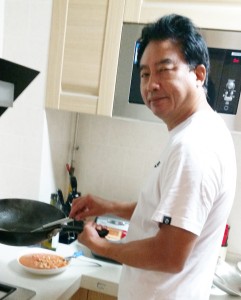 Chinese Philosophy for happy healthy life: See you evil, Speak no evil,  Hear no Evil
Other pages of interest: