Are you feeling or experiencing :
Are you :
Relax, unwind and allow the stress to leave the body with the divine healing touch from Margie,  a specialist therapist in lymphoedema management. Margie will manually drain fluid from your  tissues and give you a self help plan improve your quality of life moving forward.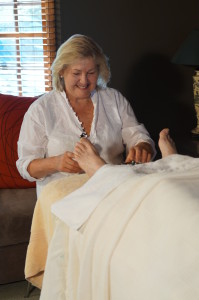 ?
Clinic rooms in Bay View on the Northern Beaches and Forestville on the North Shore , NSW,  Australia.  Margie is a qualified remedial massage therapist and graduate of the Dr Vodder Academy in  Austria.
Are you troubled by lymphoedema(swollen limbs) or arthritis? Margie specialises in the management of both conditions  including combined congestive therapy and many other chronic illnesses using MLD.
A rhythmic wave-like massage, MLD is performed with flattened fingers. This is soothing skin contact without the use of oil. It cleanses the body of toxins, speeding the healing process and addressing stress by sedating the nervous system.
It is particularly beneficial in the management of lymphoedema. MLD can also help treat common symptoms such as inflammation, sprains, headaches, sports injuries, lethargy and pre and post surgery.
Aromatherapy Massage
Margie provides a wonderfully nurturing body massage using pure essential oils specifically blended for your needs. Because of Margie's love for herbs, she ventured into the study of Aromatherapy which has been a passion ever since. In fact she published her first book, Aromatherapy Massage selling more than 600,000 copies.
This unique massage is gentle yet powerful. Energizing yet relaxing. It heals the body releasing energy blocks, enabling the natural body healing process to proceed.  It is a holistic complete body treatment whilst fully clothed.
Margie includes some aspects of reflexology in every treatment. She is trained in both Western and Chinese reflexology. Each area of the feet, hands and ears corresponds to particular organs in the body. Reflexology provides natural healing, reduces stress and induces deep relaxation whilst opening the energy pathways.
Energy Healing
This hands-on, energy healing technique improves overall well-being and is included in every treatment by Margie.
This  one and a half hour treatment to balance all body systems, release and unblocks all energy pathways to healing. Excellent for pain relief, stubborn injuries and emotionally stuck issues.
Seaweed body wrap/salt scrub
Margie considers this is a vital treatment at the change of seasons. A wrap of active seaweed, clay and salt cleanses and tones the skin. Then a blend of pure essential oils is used to hydrate the skin. The whole body feels renewed. Ideal treatment for detoxing, dieting or fighting cellulite. Includes full dry body brush.
Laser Therapy
Laser therapy is included in all treatments where necessary. Used to speed up tissue healing of skin conditions like bruising, scar tissues, ulcers and acne. With lymphoedema management, it speeds up lymph flow and breaks down fibrosis. It also speeds up healing from sports injuries, helping to repair ligaments and tendons.
Margie uses all these skills in a combined form pending the treatment required.
All treatments are charged out at between $130.00 – $150.00 per hour. Treatments are one and half hours per session. Margie is registered with Massage Australia, the Dr Vodder School and the Tiandi School of Qigong. All treatments can be claimed on private health.
Book your body treatment today with NatureHealth, please contact Margie on
0407 187 159