Ingredients
400g mixed fruit / cherries
50 g chopped nuts of choice
one 450g tin chopped pineapple
5 eggs
125g coconut oil / butter
 1 cup almond/ buckwheat flour of pending your gluten tolerance
1 cup self raising flour
1tsp bicarb
optional brandy  for soaking
1 cup sugar (optional) – for me it is sweet enough from the fruit)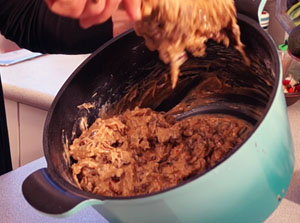 Method:
Put all fruit into cooking pot and soak overnight in brandy(1/4 cup)
Add in coconut oil and bicard and bring to the boil, stirring all the time(it will froth up)
Allow to cool
Add nuts and flour – stir/ beat/mix till fully integrated – not runny but not stiff either
Now make one big cake, small muffin size cakes or mini cakes
Cashew Nut Cream Topping:
one 500g packet raw cashew nuts
1tsp organic vanilla essence / two vanilla pods scrapped clean
Method:
Combine all ingredients in the blender. For a very thick cream add less water. For a runny cream as for a hot Christmas or sticky date pudding add more water.
Why I love this easy recipe:
you can add in anything you fancy ( exotic and extravagant or real simple)
you can eat it fresh or freeze it for later use
you can make it in advance and wrap it up for Christmas with a dash of brandy
you can dress it up or leave it bare for informal and casual fare.
Other pages of interest:
For more recipes for healthy cooking and nutrition subscribe to my newsletter and You Tube  videos at the top right hand side of this page.