Yes, bring it on!

Margie's Decadent Chocolate Balls
I make up a big batch beginning of the  month so there is enough for dinner parties, gifts and to serve at my workshops.  It is a good healthy snack any time! Needless to say at Christmas time I am making a batch weekly.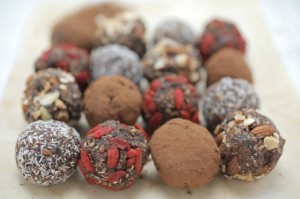 These Decadent Chocolate Balls :
are a great source of complete protein
 contain all the essential amino acids needed for repair and for a healthy immune system
are a good source of vitamin E and minerals from the almonds and fresh dates
with cinnamon add a distinctive flavor and also help stabilize blood sugar levels
If you can't have nuts grind up sunflower, pumpkin and linseed then throw them in the mix in place of the almonds.
Ingredients: 
330 g raw whole almonds, cashews or walnuts
60g almond flour, buckwheat flour or branflour(whatever you prefer)
16 fresh finely chopped pitted dates and prunes(I soak them overnight in hot water and fresh orange juice)
2 tablespoons organic raw cocoa /cacao powder
1 tablespoon natural vanilla extract
1/2 teaspoon ground cinnamon
Hand full of finely chopped fresh  mint leaf tips
Coconut oil
1 slab organic dark 80% chocolate
60mls dark rum / Cointreau
Optional extras include:
Coconut, cacao and chia seeds for rolling.( I love the crunch of the chia seeds).
Goji berries. Be creative! Every time I make them, they are different depending on what's in my cupboard.
linseed
sesame seed
sunflower seed
pine nuts
oats
Easy steps:
put almonds into the food processor with cinnamon and cocoa
then process until the mix looks crumbly
into a bowl add finely chopped dates, vanilla extract and cinnamon.
mix with wooden spoon
add the splash of  rum / Cointreau / juice from the mandarin/ coconut oil if you need to so that mixture is soft and forms a soft ball
add mint
melt chocolate with coconut oil on low ( do not cook)
if too soft add more desiccated coconut, chia seeds or chopped nuts
form into decent sized balls
roll in cocoa, coconut and chia seeds or any other  coating of your choice.
store in the fridge for up to four weeks until you feel like a snack or quick meal on the run
Hide in the freezer, so nobody can find them,  till required.
Add in any of the following optional extras:
Organic mandarin rind cut extremely thin.
Use Cointreau instead of rum when adding Mandarin rind.
TIP: Leave out the alcohol for kids and add mandarin juice.
My favorite herb when working with Chocolate is mint (common garden mint and chocolate mint are best). So I add a small hand full of washed and very finely chopped fresh mint.
Replace dates with Cherries for Cherry Decadent Chocolate Balls!
For more exciting healthy cook subscribe to my You Tube videos and newsletter at the top right hand side of this page 
Other pages of interest:
"Anything is good when it is made of chocolate"
Jo Brand