Thick and creamy dollops like ice-cream  or pouring consistency un-whipped cream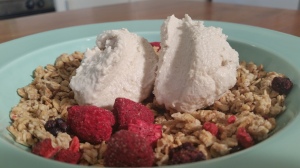 Ingredients:
raw organic cashew nuts
filtered water
vanilla pods or  vanilla essence
Method :
Place a hand full nuts in the bullet blender
Add enough water to less than covering the nuts
Add vanilla essence / fresh vanilla seeds to taste ( you can always add more )
Blend till smooth
Use on breakfast muesli, porridge, fruit salad, deserts and anything that you would use cream, ice cream, sugar loaded yoghurt,  custard or sweet sauces.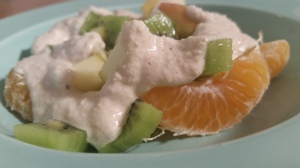 Tips
Lasts well in the fridge.
To use after being in the fridge add water to make it runny consistency again.
This easy recipe was inspired by  my 15 years lecturing on health and wellness at Hopewood Health Retreat where dairy and sugar were a NO NO! It was a sad day for me when the doors closed. The health  lessons live on.