Quick, easy traditional French recipe  from scratch to serving in  45 minutes. Recipe by courtesy of Master Chef Robert Rayney.
What are the herbs in  'herbes de Provence?'
This traditional blend of aromatic herbs flourishes in the hills of Southern France. Used by the handful when fresh.  Great addition to any dish from the Mediterranean region.
4 t thyme
4 t marjoram
4 bay leaves
tarrogon
11/2 teaspoons summer savory
1/4 t rosemary
1/4 t mint
1/8 t fennel seeds
1/8 t sage
pinch of lavender flowers (optional)
orange zest (sometimes included)
Mix all these dry herbs together and store in glass sealed jar till use.
Advise from Rob: " Ideally try to use fresh herbs. Sometimes dry herbs give a dusty taste to things".
What is a bouquet garni?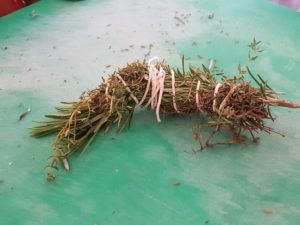 Tie together in a bunch with string for easy removal.
Ingredients:
8 chicken breasts or alternatively use a whole chicken (the breast and leg meat will compliment the dish)
1 T olive oil
1 onion, chopped
3 cloves of garlic, crushed
11/2 cup plum tomatoes, seeded and diced(approx 3 cups)
1/3 cup dry white wine
1/3 cup Nicoise
4 anchovy minced
20g herbes de Provence fresh or 10grams if dried
3/4 t salt and 3/4 t freshly ground pepper
bouquet garnet
Method:
griddle or roast  chicken
in new pot  heat oil,  add onion and garlic, cook, do not burn.
add wine simmer on low  for 2 minutes
add all remaining ingredients and simmer on low till sauce consistancy
cover chicken  with the hot sauce, serve immediately
 serve with green salad and new potatoes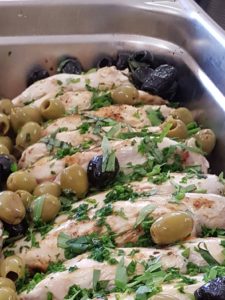 History:
According to great writers on Provencal cuisine  there are three foundation : olive oil, garlic and aromatic herbs. Jean – Noel Escudier wrote: "The king of Provence is the olive tree,  there is not good cuisine without good olive oil and there is no Provencal cuisine without garlic. " During the middle ages cabbage was the major source of food for the masses of the Provencal region.
"Serve this sauce with a beautiful organic cabbage of ant variety. If using a red cabbage braisewith red wine qnd olive oil." Rob Rayney
'delicieux repas de famille'   –   delicious family meal