This is one of the easiest sauces to make. Every family in France knows how to make it from scratch. This magical simple recipe is the base for many famous sauces from all over the world. Recipe by courtesy of Master Chef Robert Rayney.
Ingredients:
3 organic egg yokes
1 t freshly ground pepper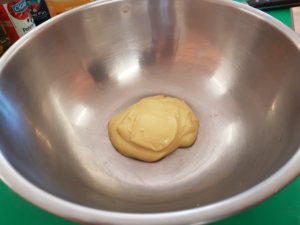 1 t  salt
3 T Dijon mustard (be sure your mustard is fresh)
1/2 T white wine vinegar
600 ml sunflower oil
200 ml olive oil
lemon juice (optional)
Method:
 Mix all ingredients together except the oil in food processor or mixer and mix straight away. (this is prevent the salt burning the yokes)
Slowly add 600 mls sunflower oil, then the mayonaisse will start to thicken. As the oil integrates add more until all oil is added including the 200ml of olive oil..
When all the oil is added it should be quite thick. Add a little warm water to make it a little runnier if needed.
Season to taste.
Finish with a vigorous blend on highest speed to completely integrate all the ingredients.
You can thin with cold water or cream.
This recipe make about 1kg  mayonnaise for approximately. Store in sterolised jar in the fridge in a glass.
" When you are ready to use do not stick your fingers or dirty spoons in the sterilised jar with the mayoniase. This will compromise your mayonaise. " Rob Rayney.
Tips for getting more from your mayonnaise : 
add garlic and lemon juice and your have  – French Aoili (garlic sauce)
add capers, gherkins, onions, parsley, chervil and tarragon – you have Classic French Remoulade (Tartar sauce)
Origin of Mayonnaise:
One of the most common places named as the origin of mayonnaise is the town of Mahon in Menorca, Spain, where it was taken to France after Armond de Vignerot Du Plessis's victory over the British in 1756.
Et Voila, c est partait!       –       and here it goes!