The ultimate irresistible creamy potato dish with few ingredients and oozing with flavour.
This dish has many names including:
pommes de terre daphinoise,  potatoes a ' la daphinoise and  gratin de pommes a'la daphinoise
Recipe by courtesy of Master Chef Robert Rayney.
Ingredients: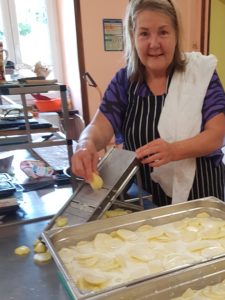 This portion should serve 8 people
3 lbs waxy potatoes
800ml  double cream
4 cloves garlic, pressed
2 sprigs of fresh  thyme with extra for sprinkling
a pinch of freshly grated nutmeg
1 oz butter
Method:
rub the butter all over the surface of the oven dish
peel and  slice the potatoes (leave in a dish of water till ready to use)
pour cream into saucepan and all other ingredients
slowly heat to simmer ,  do not boil or burn
remove from heat as bubbles appear around the edge

Removing the cream from the heat at the right time is critical.

paper dry the potatoes and lay, slightly over lapping, in buttered baking dish
pour liquid over potatoes
bake for one hour in preheated oven at 160 degrees C
do not burn
garnish with finely cut chives (optional)
Question:
What is the difference between Gratin Dauphinois and Gratin Savayard ?
Answer:
Gratin Douphinois is with no cheese.
Gratin Savayard is with of  6 onz good emental or Gruyere cheese added
History: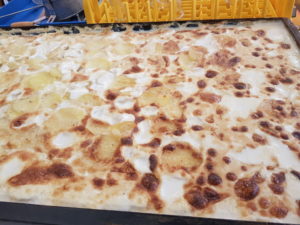 The first mention of the dish dates back to 12th July 1788. It was served at a dinner given by Charles-Henri, Duke of Clermont-Tonnerre and Lieutenant – General of Dauphine.
'un plat digne de la royaute'     –     a dish fit for Royalty