Doorstep of Salmon with crayfish and its own sauce
French cuisine is all about the sauces.  There is so much that you can do with French sauces.  This is a  delicious bisque sauce for fish.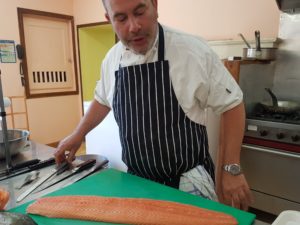 This recipe serves 4 people
Ingredients to make the court bouillon:
Bouillon is a French word  for broth. This word comes from the verb 'bouillir' meaning to boil. Court bouillon  is a quickly cooked broth used for poaching  most commonly fish and seafood.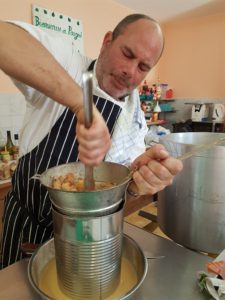 600 of salmon fillet cut into 4 "doorsteps"
1 medium crayfish
100 gms each carrot, celery and fennel
fresh aromatic herbs (basil, tarragon and shallots)
pinch of salt
15 whole pepper corns
1T white wine vinegar
1.5 litre water or light fish stock
Step one – Method to make Court Bouillon: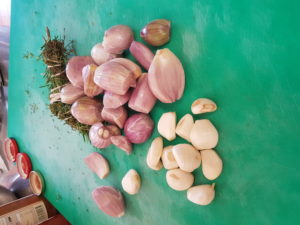 Plunge  the crayfish into boiling water with  (carrot celery, fennel fresh aromatic herbs and black   pepper corns)
Add one T white wine vinegar
Cook for 4 – 5 minutes. Do not overcook.
 Remove from pot and cool
Cut crayfish head in half lengthwise with sharp knife.
Remove tail intact.
Separate crayfish meat from shells
30 30gyou are left with fish stock – set aside  to use later 
Ingredients for the sauce:
30 g butter
250 gms mix of carrots, celery, fennel, onion, thyme and tomato diced small
small glass cognac
300 mls white wine
300 mls white fish stock
500 mls double cream (do not use single cream or it will curdle)
fresh basil and chopped fresh chives to finish
Step 2 –  Method to prepare the sauce:
smash the shells in a pot with end of rolling pin till pulverised
add butter to pulverised shells and  warm with shallots, celery, carrots, thyme , garlic and aromatic herbs
cook without burning , stirring all the time to ensure warm dark colour
add chopped tomato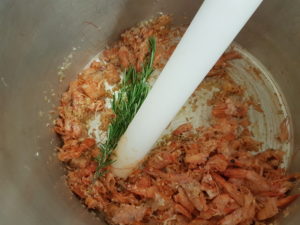 add small glass cognac
300 mls white wine
add 500 mls fish stock (made earlier and set aside)
Cook for 45 miniutes until syrupy consistency and there is a deeper colour. Be careful not to burn.
Strain the cooking liquid into new pot and reduce to syrupy consistence
Add 500 ml double cream
Reduce until it coats the back of a spoon
Strain again
Keep warm
Step three  –  Prepare salmon and crayfish for serving
cut cooked crayfish tails into discs divide equally between four,  set aside for serving
steam the salmon doorsteps (keep slightly under cooked)
plate the salmon  with the crayfish
add sliced basil and chopped chives to the warm sauce
coat the crayfish and salmon with the hot sauce
serve immediately garnished with blanched julienne of carrot, celeriac and leek
Robs parting words: "And if you want the dish to impress your guests even more add some julienne of black  truffle from Perigord. It has a great taste " .  Optional of course due to the high cost of black truffles.
"Profitez de votre creation"   –   Enjoy your creation