The Chinese Yin –  Yang Theory
The philosophy is that health the balance of complimentary opposites:
fire and water

mind and body

self and nature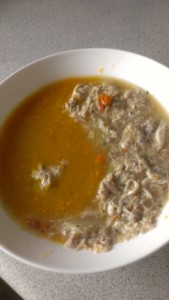 Pumpkin and Chinese Chicken soup
Master Zhao and May Sun showed me how to make Chinese chicken soup
Ingredients for Chinese Chicken Soup:
one whole organic chicken
one packet of dried winter Chinese herb mix
8 cloves of fresh garlic
filtered water to cover
Method
 Place Chinese herbs and chicken in big pot. Bring to the boil.
Simmer  on very low heat for 2 hours until the chicken falls off the bone.
Remove all the bones
Crush the garlic into the soup and stir
Add salt and pepper to taste
Ingredients for Pumpkin Soup:
one organic butternut pumpkin
One or two sweet potatoes
salt and pepper to taste
1 tsp each cumin,
2  tsps. coconut oil
Method:
wash scrub and dice vegetables
gently heat up oil and lightly toss the cubed vegetables with the spices.
cover with water and simmer till soft
set aside enough cubes of pumpkin to garnish
blend till smooth and thick
To Serve :
 with tinfoil make an " S" shape.
plate the soup by dividing the plate with the "S "shape forming the Yin -Yang.
scoop two ladles on of each soup one on either side of the "S"
garnish the pumpkin soup  with a piece of chicken and the chicken soup  with a pumpkin cube set aside.
This Yin – Yang soup can also be made with spinach soup instead of pumpkin soup.
Other Yin – Yang polarities include:
conscious and unconscious
positive and negative
hot and cold
The two major sources of Qi are:
air and food
Two ingredients in Qigong training :
respiratory techniques and diet