Practising Qigong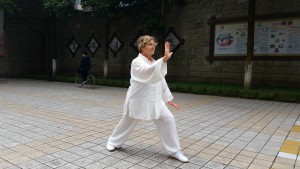 Doing regular Qigong  exercises is one of the best ways to improve your health and ensure longevity. Find out more about the many aspects of Qigong including:
Training courses offered in Sydney and internationally
You are welcome to join one of my Sydney courses in:
Basic Qigong
Self-healing Qigong
Shibashi
Mawangdui and Yijingjing.
If you live elsewhere, I offer online Qigong courses throughout the world via Patreon.
I  am also available to teach in any country at a mutually agreed time and place( group or private). Please contact me by email to arrange this tuition.  margiehare18@gmail.com
"You have all the medicine you need within your own body. You need  to learn how to use it. Acupuncture points, meridian energy channels throughout the body, saliva, breath-work, self healing and meditation." 
Grand Master Zhao