Lymphoedema Patients Love Mobiderm
This unique fluid reducing solution has many benefits. It is made up of different sizes of foam inserted between two woven layers.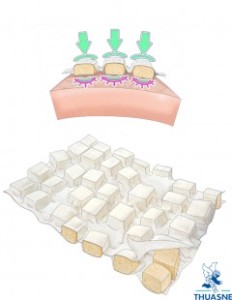 Why?
rapidly reduces volume in limb
reduces oedema as it accelerates absorption of fluid
improves mobility
cooler
lighter
more effective
help breakdown fibrosis, softening indurated areas
very flexible in the way it is used
quick and easy
saves therapist time and client money
gives patient greater autonomy
shortens initial treatment phase period
Comes in three forms:
bandage
pad
custom made garment
Indications for use:
 lymphoedema
Venous oedema
post traumatic oedema
Contraindications:
inflammation
skin infection
fragile and allergic skin
Precaution:
Use only every second or third day
Hot off the press:
 LymphoMation – "What your doctor did not tell you about lymphoedema?"
 Part One: Introduction to Lymphoedema has been released. This is an on going e-book series to help you take charge of their health naturally . Click this link to order Part One now.
Other pages of interest:
To receive NatureHealth regular newsletter and more lymphedema tips click the box on the right hand side of this page and subscribe.
"Wisdom is not a product of schooling but of the lifelong attempt to acquire it."
 Albert Einstein