Qigong is the mastery of mind, body movement and breath. This relaxing posture brings almost to a close this healthy routine that is for everyone.
Routine
Repeat six times on each side.
Breathe in as you step by lifting your left foot and raising your right hand.
Breathe out as you lower left foot and right hand gently.
Repeat on the other side.
Tips
Lift each foot slowly, with a rolling motion starting with the heel, then the ball of foot and finally the toes. As you put each foot down on the earth again, make the first contact with the toes, then the ball of the foot and finally the heel.
Benefits
This exercise:
improves your balance
increases feeling of relaxation
brings  peace within
keeps you supple and flexible
balances body energy
improves internal power
has a cleansing action throughout the body
increases your ability to make love, because you have increased energy and a deep feeling of well-being.
Strong vibrant Qi cleanses and energises the channels throughout the body, like the flowing water of a lagoon running into the sea.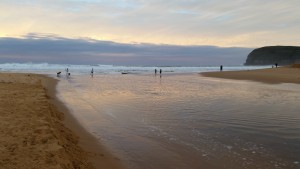 Other pages of interest:
Nature Health's Shibashi 18-sequence DVD will be released at the end of June.
To reserve your copy and be the first one to receive your DVD so you can practice in the comfort of your home, email me at margiehare18@gmail.com.